Build Your Future in Cosmetology
The beauty industry is a vast field with plenty of exciting opportunities for careers in hair and cosmetology and it's growing! The Cosmetology program at Fullerton College consists of five consecutive levels that prepare students to become eligible to take the California Board of Barbering and Cosmetology exams. Students prepare in a structured 1,600-hour program taught by experienced instructors. For additional information, visit the Fullerton College Cosmetology Department website.
Explore Programs in Cosmetology
Frequently Asked Questions
*These programs prepare students to pass the California Board of Barbering and Cosmetology examination.
Current Books:
$ 779.25 (plus tax) purchase from the Fullerton College bookstore. Proof of purchase is required!
Current Kit:
Module 1 – $800.00 (To be paid before 1st day of class) (Plus Sales Tax) Module 2 – $755.00 (To be paid the last week of Level 1) (Plus Sales Tax) The kit is to be purchased from Western Kit Company.
Other expenses:
Expect to spend approximately $500 for materials throughout the 1600 hour program.
Units:
$46.00 per unit.
Uniform:
Mandatory uniform includes black scrub pant, a black scrub shirt and 100 percent black leather or imitation leather shoes. COSMETOLOGY/BARBER/ESTHETICIAN INSTRUCTOR TRAINING
Tentative costs: $500
Milady's Master Educator textbook 3rd Edition Current edition of Barbering and Cosmetology Act & Regulations Health and Safety Training Course Textbook & Student Exam Booklet Pivot Point Cosmetology Fundamentals textbook Resource Manuals: COSM 055AF, COSM 055BF, COSM 055CF, COSM 055DF, & COSM 055EF Black lab jacket / professional name tag (& professional dress code) Instructor educational supplies & kit
Campus fees:
$46.00 per unit Costs are subject to change.
Cosmetology Program:  1,600 clock hours  There are two enrollment options for the Cosmetology program:
Full-time Day Program: Monday-Friday, from 7:00am to 4:30pm (approximately 1 year to complete all 5 levels).
Part-time Evening Program: Monday-Thursday, from 5:00 to 10:30pm (approximately 2 years to complete all 5 levels).
 Cosmetology/Barbering/Esthetician Instructor Training: 600 clock hours
COSM 060 F Instruction Techniques in Cosmetology/Esthetician & COSM 062 F Advanced Instruction in Cosmetology/Esthetician – Two semester courses for California licensed cosmetologists/barbers/estheticians to learn instructional techniques. (Offered as Fall & Spring 16-week courses.)
COSM 060LF, COSM 061LF, & COSM 062LF – two to three semester courses for student-instructors to complete 600 clock hours of laboratory observation to become a Cosmetology/Barbering/Esthetician Instructor.
Pivot Point Instruction I – Preparatory course to teach Pivot Point terminologies. (Offered as Summer 8-week hybrid course only.)
Cosmetology is an industry that is in high demand. Annual wages for cosmetologist range from a low of $22,022 to a high of $34,328 for 2017. Unfortunately, this does not reflect all income for cosmetologists. For example, actual earnings may not be reported for self-employed cosmetologists. Estimated job growth projected for 2017 is 1,970. Employment of cosmetologists in California is projected to grow 18.7 percent from 2014 to 2024, according to the California Employment Development Department Employment Projections and O*NET Employment Trends. In addition to having a rewarding career, this training also provides the opportunity for industry professionals, such as barbers, cosmetologists, and estheticians to share their occupation with others by teaching a vocational course. Cosmetology teachers are in high demand and employment in California is projected to grow 18.7 percent from 2014 to 2024 and 18.4 percent in Los Angeles County, according to EDD/O*NET Employment Trends. Sources: Use median salary and include the source: https://www.careeronestop.org, BLS.gov or Salary Surfer http://salarysurfer.cccco.edu, or https://nocccd.emsicc.com
Like what you're learning?
Get Started Today!
Fullerton College offers a robust selection of programs, including over 140 Career and Technical Education options for anyone interested in advancing in a profession, or seeking training for new career opportunities.  With guidance from seasoned instructors at Fullerton College, learn and engage in the college's modern facilities, gain the skills and knowledge to succeed, and thrive in today's high-demand industries.
Student Success Stories
Fullerton College offers its students a comprehensive academic experience, in a real college setting.
After taking all the courses
"After taking all the courses, you can actually become a certified interior designer. Fullerton College is one of the only programs in Southern California to be accredited by the State and they teach you the basics that you need to know in the industry. The lighting class has really taught me alot, such as how to select the proper lighting for a room, and also how to bring down energy costs."
– Alberto Gonzales
Interior Design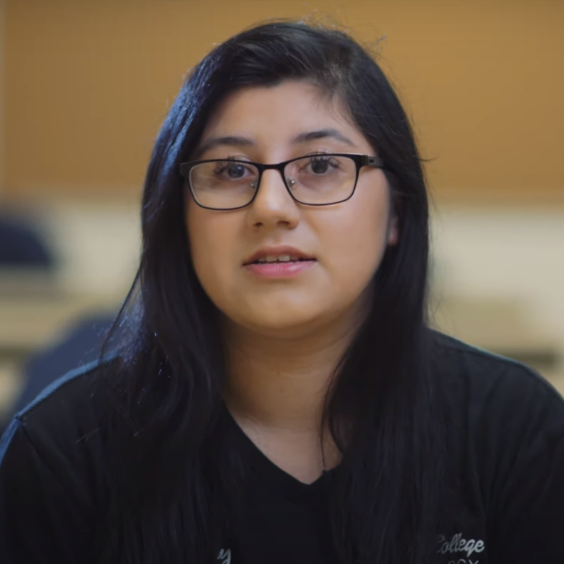 The Cosmetology Program
"The Cosmetology Program really prepares you for what your goal is. I love that you have the ability and the freedom to create whatever you want. They teach you the foundation of working at a salon, and so from there you just build on to what you've learned here."
– Daisy Murillo
Cosmetology